rainbow1907
Title:
pet!fic
Author:

rainbow1907
Fandom:
Queer As Folk US
Pairing:
Brian/Justin
Timeline:
Post 513
Word Count:
100
Rating:
R
Warnings:
None
Disclaimer:
I don't own anything, no copyright infringement intended, just playing with the boys...
Beta:
Many thanks to my wonderful beta

buckeye5
!!! Any remaining mistakes are mine.
Author's Note:
Written for

pet0511
's birthday !!! Beautiful banner and icon made by

galehot
.
Feedback:
Yes, please! Rena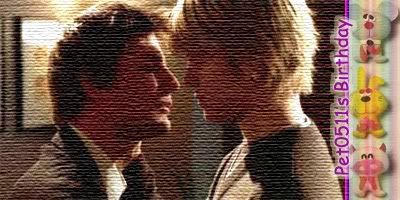 pet!fic
Twat! Twat! Twat! Twat! Twat!
Justin stared at the overly excited bird and huffed in frustration.
"I honestly don't know what to do, Brian. How can we ever give it back to my mom with it talking like that? Fuck!"
Fuck! Twat! Twat! Fuck! Fuck!
"I told you it was a bad idea to baby-sit Mother Taylor's parrot while she and Tucker are away on their honeymoon. Now look what you've done, twat!"
TWAT!!!
"What I've done? It's entirely your fault and you know that!"
I love you! Twat! Fuck!
Brian sighed.
"And I'm never going to live it down."
Made by

phyncke